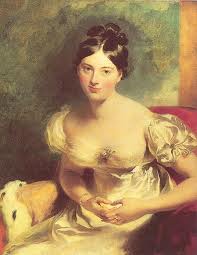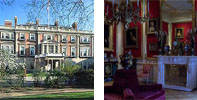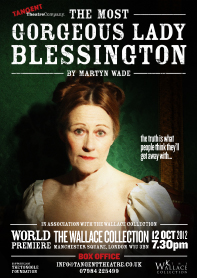 Poster design: Michael Linsey
Photography: Luke Gartside
In association with The Wallace Collection
"The Most Gorgeous Lady Blessington"
By Martyn Wade
Featuring Jilly Bond & Oliver Senton
Directed by Holly Wilson
Design by Laura Clark
Lighting by Derek Carlyle
With Live Music in the Great Gallery at The Wallace Collection
Hertford House, Manchester Square, London W1U 3BN
Supported by The Tongole Foundation
12 October 2012
7.30pm Gala Premiere
Tickets £35 per person - now sold out!
Thomas Lawrence's portrait of Marguerite, Countess of Blessington, which is part of the Wallace Collection, shows the sitter in all her beauty and splendour. But in 1849, when it hung in Marguerite's Kensington home – Gore House - the painting served as an unpleasant reminder of faded glory and changing fortune. "The Most Gorgeous Lady Blessington" tells a story of money, fame, scandal and the press – a story with striking contemporary parallels. 
In "The Most Gorgeous Lady Blessington", Marguerite and her young, spendthrift companion, the Count d'Orsay, have become virtual prisoners in Gore House, as creditors circle the house and financial ruin threatens.  Outside lurks an unscrupulous, gutterpress-man, Westmacott. As he waits, he single-handedly brings Marguerite's past to life – her marriage to the indulgent, indecently rich Lord Blessington; celebrity as a society hostess; and, above all, notoriety on account of her relationship with d'Orsay – husband of her stepdaughter. Then an American journalist pays a call on her ladyship …
The play includes extracts of Lady Blessington's writing, some of which can be heard in Chrome Audio's CDs "A Journey through France" & "A Journey through Italy". ('Superbly read' - Daily Telegraph; 'hugely entertaining' - The Guardian; 'Lady Blessington's "Idler in Italy" is now on my wish-list' - Sunday Times)
Tangent Theatre Company has commissioned the play from dramatist Martyn Wade, who has adapted classic works for radio (including "The Barchester Chronicles" and "The Pallisers"), and written biographical plays (subjects include Benjamin Britten, Oswald Mosley, John Wesley, and Diogenes the Cynic). His latest play, about a tennis court quarrel between the Earl of Oxford and Philip Sidney, was broadcast earlier this year on Radio 3 and his new series of "The Little Ottleys" on Radio 4.
Jilly Bond (Lady Blessington) played Pascale in "Island" at the National Theatre & Nina in "Napoli" at the West Yorkshire Playhouse earlier this year. She is reprising her roleas Lady Blessington from Chrome Audio's production of the Journeys Through France & Italy. For BBC Radio 4, she has been heard as Bridget in "The Archers" and Susan Grantly in "The Barchester Chronicles" among many others; The Times said of her reading in "A Book of Liszts", again for Chrome Audio, that it was 'flawlessly performed'.
Oliver Senton (Westmacott) has just appeared at the Edinburgh Festival in "Showstoppers" & "The School of Night", after a year in London's West End in "Mamma Mia!" Other career highlights include seasons for the RSC and playing the lead in "The Warp".
Mary O'Connor of the Strand String Quartet, will play the original music.
Reactions to "The Most Gorgeous Lady Blessington":
Wallace Collection response:
"Everyone I spoke to on the night thought it was wonderful and very much seemed to enjoy the experience of watching it in the Great Gallery. A great project to showcase here and I've heard very positive things. Everyone seemed to love it."

Corporate responses:
"It was an evening never to be forgotten."
"Thank you for a really great evening. We have never had such glowing responses from guests at a client event."
Public responses:
"Great show, great venue, great talent, lovely experience, let's have more of this kind of thing, thank you."
"What a triumph! The party of friends I brought have been lavish in their praise: the magnificent setting, the wonderful acting, and the great atmosphere. They all felt they were at something very special. Very many thanks for including us in such a wonderful evening and allowing us to witness Lady B. coming alive!"